Where oh where has November gone? This year is on track to be the hottest on record, and the past month's unseasonably warm climes left us discombobulated, and shocked when Thanksgiving and the subsequent holiday bonanza snuck up on us. Or maybe the reason November seemed to fly by is that it was a whirlwind of small events — lunch with friends, museum excursions, movie nights, bottle shares, engagement and birthday and housewarming parties — that left us in need of some cozy Netflix and tea for one. Zelda goes home for the holidays (albeit briefly) on Thursday, Scout's anticipating the arrival of the Momma, and both of us are ready to hit pause for a minute, dig into some turkey (which in Zelda's book is merely a vehicle for the thing that really matters: cranberry sauce), and take stock of all the things we're thankful for — including all of you. Happy Thanksgiving, y'all.
What We're Doing: This month started off on a historical note, with Scout's list of all the New York spots her inner history nerd wants to visit. We continued the New York theme with another volume of Required Reading, featuring some of Zelda's favorite tales of the big personalities and inner resources that run this town, and with Scout's reminiscences about Thanksgiving, and the many forms it takes when you find yourself far from home and surrounded by friends who are your family. Rounding things off were the old stand-by's: a playlist, a little inspiration, and an Eat This, Drink That in which Scout rocked pulled pork and Zelda discovered she doesn't really love hot toddies after all.
What We're Listening To: This month's playlist was made for commutes, full of gems to carry you through signal delays, train traffic, crowded platforms, and "showtime." Some old Z&S stand-by's made the cut — the brothers Avett and Wheeler, lovely lady Ingrid Michaelson, Alabama Shakes, Monsters of Folk, Simon and Garfunkel, Belle and Sebastian, and Carole King to name a few. But we also added some newbies to the mix! Scout introduced Beach Weather and Andrew McMahon in the Wilderness, Zelda added Milo&Otis and George Ezra, and a sprinkling of other old favorites and new discoveries made for a mix that rolls to the rhythm of the rails. The songs on here are our morning jolt of musical coffee and our late-night lullabies. They carry us home.
We also love: We are obsessed, obsessed, obsessed with Sara Bareilles's new album "What's Inside: Songs From Waitress," which has only added to our burning desire to see this show staged on Broadway (and starring Jessie Mueller no less!). And for another musical treat, check out this video of our favorites The Milk Carton Kids killing it at the Grand Ole Opry.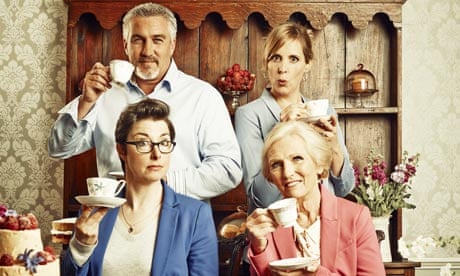 What We're Watching: Zelda was sucked into new Netflix arrival, The Great British Bake-Off (known on said site as "The Great British Baking Show," but as frequent consumers of British media, we insist on calling it by its original name, because that's what it is). Who can say no to Sue Perkins, Paul Hollywood, Mary Berry, and cake? Scout on the other hand finally watched the cinematic masterpiece that is Disney/Pixar's Inside Out. She sobbed an appropriate amount, because crying is good and it's important to have ALL THE FEELINGS.
We also love: This awkward interview with the queen of owning your awkward, and our fellow Louisvillian, Jennifer Lawrence. And of course we had to indulge in Amazon's pilot Z, which tells the story of our namesake belle, Zelda Sayre Fitzgerald, as played by Christina Ricci. This led us to Good Girls Revolt, a newsroom drama about the rise of feminism in the workplace, based on a true story. We see you Amazon. A+. And then there's this SNL sketch about the power of Adele, which is, as the kids say, giving us life.
What We're Reading: This New York Times interview with bona fide badass and queen of the memoir Mary Karr. This tour of chef, blogger, and cookbook author David Lebovitz's Paris kitchen (also courtesy of NYT). This nostalgic Atlantic ode to girl power classic Charlie's Angels, whose 10th anniversary, celebrated this year, makes us feel super old. This look over on Jezebel at the sometimes questionable fashion choices of our favorite Gilmore Girls (unlike the author, we're willing to cut the gals a little slack — it was the 00s after all). This honest and inspiring speech by Girl Raised in the South Reese Witherspoon, who was recently chosen as one of Glamour Magazine's Women of the Year. This celebration of drawl, twang, and other idiosyncrasies of the Southern speaker, courtesy of our favs at Bitter Southerner. This Vulture interview with unsung hero Javier Muñoz on what it's like to be Lin-Manuel Miranda's other half, literally (#javilton). This sad-slash-hilarious-slash-tragic-because-it's-so-true article on Gawker about the darkness and doom that has descended on New York with Daylight Savings Time, not to lift until spring. And in books, Zelda positively devoured Room and The Martian this month, in anticipation of seeing them in cinematic form. Read them, please read them, but be prepared to stay up until 4:00 a.m. because you can't put them down. Scout, meanwhile, continues her Sarah Vowell kick with Unfamiliar Fishes, about the Americanization of Hawaii. Engrossing, entertaining, and educational to boot!
What We're Eating: In this month's Eat This, Drink That, Scout tried her hand at pulled pork, and succeeded! It's true! Anyone can use a crockpot! And of course, Thanksgiving is just around the corner, so bring on the sweet potatoes or yams (whatever you prefer), green beans. cranberry sauce, and t(of)urkey! We're ready to eat until our pants don't fit and the tryptophan kicks in, and to give thanks for the finer things in life, of course.
What We're Drinking:  While our Eat This, Drink That  foray into the the winter classic, the Hot Toddy, did not go as swimmingly we had hoped — even spiced rum couldn't spice it up enough for us — Scout was sent home from Kentucky in late October with almost a case of beer (many thanks to the Momma) not available in New York. The favorite from that case? Three Floyds Deesko, a Berliner Weisse that's probably better suited to summer, but still tastes fantastic in this unseasonably warm November air. Speaking of that warmth, we'll admit, it's been swell, but the time for chillier climes has come. Bring on hot beverage season. We're ready for our hot chocolate.
What's On Our Wishlist: These warm and waterproof boots from Cole Haan's Zerogrand series, Scout's go-to for workplace comfort (seriously their flats are life savers), shot straight to the top of her list. Zelda is dreaming of cozy cashmere, in scarf, sweater, or cozy blanket form. But obviously, at the top of our list, are tickets to the DCX Tour stop at Madison Square Garden next June (preferably with Katie, Scout's Momma, and Zelda's fam, but we'll take what we can get), because IT'S THE DIXIE CHICKS, OF COURSE WE WANT TO GO. Our childhood dreams have literally come true. Christmukkah's a-coming, y'all, and we wouldn't say no to those in our stockings.
Want a monthly dose of Z&S delivered straight to your inbox? Sign up for our newsletter here! And don't forget to like us on Facebook and follow us on Twitter, Instagram, Tumblr, and Pinterest to make sure you don't miss out on a single bit of Southern-fried, Brooklyn-based goodness.